BUCC 29 January 2020 Event with FranklinCovey
On January 29th, 2020, British Ukrainian Chamber of Commerce (BUCC) held its Networking Reception at the Radisson Blu Hotel, 22, Yaroslaviv Val St., with a presentation by FranklinCovey Ukraine, a global leader in management training for effectiveness, trust, productivity, sales and strategy execution that provides instruction, assessment, implementation.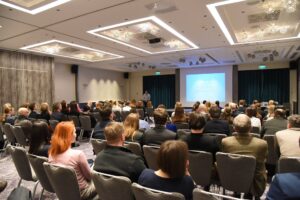 Over 90% of the Fortune 100 and more than 75% of the Fortune 500 companies, rely on FranklinCovey, in over 140 countries.
Dmytro Tretiak, MD, and Olga Rafalska, CEO, of FranklinCovey Ukraine presented to the audience the 4 essential roles of management that FranklinCovey has develop to build team around a common corporate goal and stay ahead.
The participants learned about the best leadership practices developed by FranklinCovey Ukraine over many years and how to implement them in their daily work.
BUCC 29 January 2020 Event with Reece Lynch
On 12 December 2019, the BUCC held the Reception, followed by a Discussion, with the British filmmaker Reece Lynch, who moved to Ukraine 10 months ago to cover the situation at the front in the Ukrainian Donbas. He made a presentation, with unseen film coverage, that was followed by a questions session.
Mr. Lynch prepares weekly update reports as well as films on the army service men and women and the civilians in the occupied part of Donetsk and Lugansk Oblasts, bringing the events in Ukraine to the UK and the rest of the world. He has also made two documentaries, one about ecology in the industrial city of Mariupol and the other on internally displaced people (IDPs) from Shyrokyne Village, which was destroyed early in the war.
Mr. Lynch is the only English speaking source providing continuous press coverage from the front in the Donbas. He should provide us with a unique insight into the war as well as on the conditions for those in the conflict areas who are defending us. After the Discussion, we will continue with the drinks Reception, during which Mr. Lynch will available for informal conversation. Mr. Lynch follows in the British tradition of reporters like Gareth Jones and Malcolm Muggeridge who brought the truth about the Holodomor in Donetsk Oblast to the western world in the 1930s.